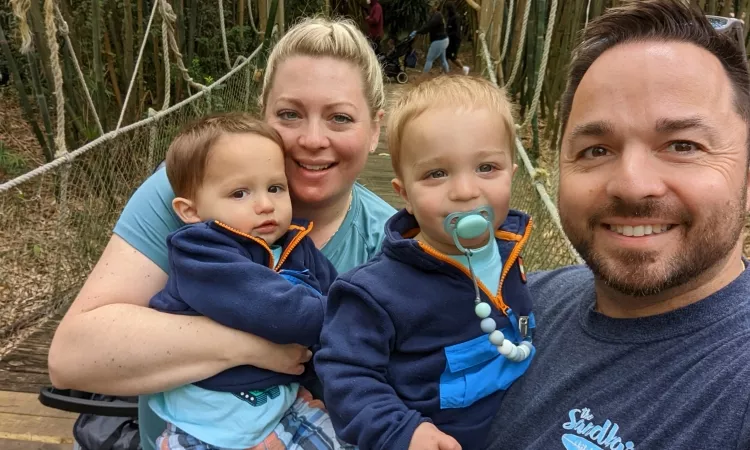 We are excited to continue to shine the spotlight on our exceptional employees, and our focus is now on Kosta. As Director of Inside Sales and National Accounts for our Commercial Services team, Kosta brings passion, dedication, and a wealth of experience to his role.
Embracing excellence at JK Moving
Kosta's JK journey began when he joined the company in February of 2022, with his connection with the moving industry dating back to his days in Seattle when he was colleagues with now JK President David Cox. It is Kosta's deep respect and admiration for David that eventually led him to JK.
Kosta also was impressed by JK's focus on quality over quantity, with the company aspiring to be the best in the industry verses the biggest by focusing on delivering exceptional service and customer experiences. This alignment with the company's vision and JK's reputation in the industry and among its customers stood out to Kosta. Today, as an integral part of the team, he's witnessed first-hand the company's unwavering commitment to customer satisfaction, quality service, and leading-edge technology.
Winning a key account: A milestone of success
Kosta's dedication and determination have led to significant milestones throughout his career. Yet, one that stands out for him is winning and maintaining an account with Microsoft while in Seattle. The project involved managing this multimillion-dollar account, navigating the competitive RFP process, and ultimately securing the business twice over, all while ensuring the satisfaction of the customer.
Building for the future
Looking ahead, Kosta's future goals revolve around making a positive impact on the people he works with. He appreciates the opportunity to help others succeed and grow, taking joy in their accomplishments. His focus on building strong teams, developing individuals, and implementing efficient processes is evident in his passion for creating a positive work environment.
Kosta in three words
Asked to describe himself in three words, Kosta chose competitive, family-focused, and driven. His competitive spirit pushes him to excel in his professional endeavors, while his commitment to family helps him foster a nurturing and supportive environment for those around him.
Life beyond work
Outside of work, Kosta enjoys spending time with his wife and two children. A devoted sports fan, he proudly supports his hometown team, the Seattle Seahawks, and is starting to embrace his new local team, the Jacksonville Jaguars. Additionally, he has been an avid soccer player throughout his life.
Kosta is an asset to JK Moving. His passion for excellence, dedication to his team's growth, and commitment to delivering exceptional customer experiences make him a leader in the moving industry. We are proud to have Kosta as part of our team, and we look forward to his continued success.
Are you or someone you know interested in a career with JK Moving? Please visit our Careers site to learn more!